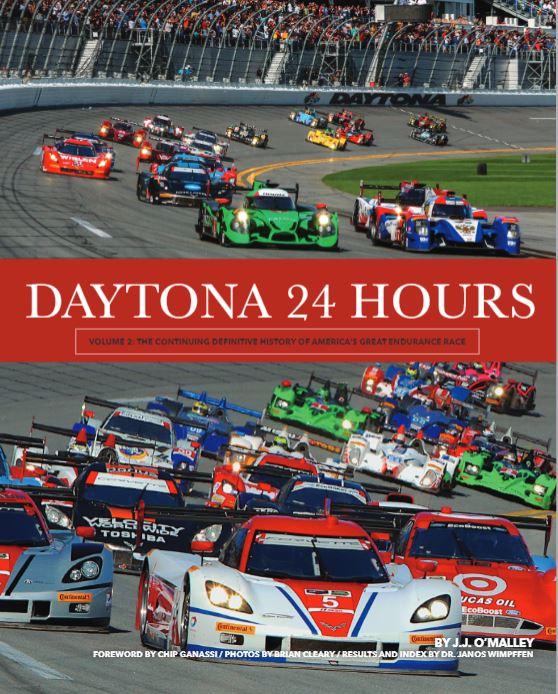 Daytona 24 Hours: Volume II
Daytona 24 Hours, Volume 2, is the continuing story of America's great endurance race. Volume 1 covered the races between the inaugural 1962 Camel Continental, won by Dan Gurney in dramatic fashion, through the 2003 Rolex 24, featuring the debut of the Daytona Prototypes. Volume 1 was expanded in 2008, covering the races through that year. It is available through Amazon.
Since then, the race has seen many changes. The Grand-Am Rolex SportsCar Series added the exciting third-generation Daytona Prototypes in 2012, In 2014, the landscape of North American sports car racing changes with the merger of Grand-Am with the American Le Mans Series, resulting in what is now the IMSA WeatherTech SportsCar Series. T
he 2017 race – won by NASCAR legend Jeff Gordon – featured the debut of the Daytona Prototype international.' Volume 2 covers the exciting races between 2009 and 2018, from David Donohue leading Brumos Racing to an upset victory in 2009 through Formula One standout Fernando Alonso making his Daytona debut in 2018.
Author J.J. O'Malley beings the drama to life though interviews with many of the participants, whose first-person accounts provide intimate and compelling insights into the challenges of competing twice around the clock at Daytona. The book is lavishly illustrated wtih color photography by veteran photojournalist Brian Cleary.
Also included are box scores from each of the races from 2009 through 2018, in addition to complete event statistics compiled by historian Dr. Janos Wimpffen, along with a 57-year index of every driver who has competed in the Daytona 24 Hours. This volume and its predecessor are the definitive history of the event.